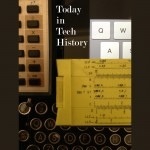 In 1924 – The Computing-Tabulating-Recording Company merged with its subsidiary and took the subsidiary's name, International Business Machines Corporation. Yes it was later shortened to IBM.
In 1989 – The Department of Defense put the NAVSTAR II-1 into orbit, the first of 24 satellites that would make up the global positioning system.
In 2005 – The domain name YouTube.com was registered. It would eventually become the dominant place to share videos on the Internet.
In 2011 – IBM's Watson, a computer system, competed against Jeopardy champions Ken Jennings and Brad Rutter. Watson cleaned up, winning $77,147 to Mr. Jennings's $24,000 and Mr. Rutter's $21,600.
Like Tech History? Get the illustrated Year in Tech History at Merritt's Books site.