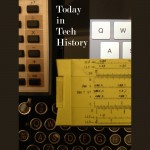 1949 – TV station KC2XAK of Bridgeport, Connecticut became the first ultra high frequency (UHF) television station to operate a daily schedule.
http://schoollibrary.org/articles/KC2XAK
1952 – The first hearing aid using a junction transistor went on sale, the model 1010 was manufactured by the Sonotone Corporation in Elmsford, New York, US.
http://www.hearingaidmuseum.com/gallery/Transistor%20(Body)/Sonotone/info/sonotone1010.htm
1959 – Physicist Richard Feynman gave a talk called "There's Plenty of Room at the Bottom", in which he suggested it should be possible to make nanoscale machines that can arrange atoms the way we want.
http://www.zyvex.com/nanotech/feynman.html
Read Tom's science fiction and other fiction books at Merritt's Books site.