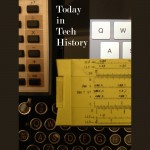 1942 – Enrico Fermi, Leo Szilard and their colleagues achieved a successful nuclear fission chain reaction in a squash court underneath the football grandstand of the University of Chicago's Stagg Field. The atomic age had begun.
http://memory.loc.gov/ammem/today/dec02.html
1982 – A Seattle dentist named Barney Clark, deemed too sick for a heart transplant, became the first human recipient of a permanent artificial heart, the Jarvik 7. He survived for 112 days.
http://www.wired.com/thisdayintech/2009/12/dayintech_1202jarvikheart/
1993 – NASA launched the Space Shuttle Endeavour on a mission to repair the Hubble Space Telescope, turning the Hubble from a late night talk show joke to the source of some of the most beautiful and valuable astronomy yet done.
http://www.nasa.gov/mission_pages/shuttle/shuttlemissions/archives/sts-61.html
Read Tom's science fiction and other fiction books at Merritt's Books site.