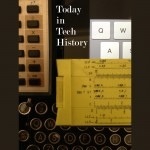 1859 – US Patent no. 25,076 was issued to Nathan Ames of Saugus, Mass. for the first escalator-type moving staircase.
http://www.google.com/patents/US25076
1927 – Computer pioneer Marvin Minsky was born in New York City. Minsky grew up to become a pioneer in Artificial Intelligence research and wrote the book "The Society of Mind."
http://www.britannica.com/EBchecked/topic/384568/Marvin-Minsky
1995 – Netscape Communications staged an IPO. Shares opened at $28 and shot up to $75 per share in one day, becoming one of the indicators of the beginning of the dot-com boom.
http://www.npr.org/templates/story/story.php?storyId=4792365
Read Tom's science fiction and other fiction books at Merritt's Books site.