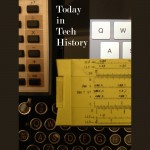 1873 – Andrew Smith Hallidie took his San Francisco cable car for its first test run. The tracks ran from Clay and Kearny Streets for 2800 feet to a hill 307 feet above.
http://inventors.about.com/library/inventors/blstreetcars.htm
1967 – The US Navy recalled Captain Grace Murray Hopper to active duty to help develop the programming language COBOL.
http://www.doncio.navy.mil/chips/ArticleDetails.aspx?id=3556
1981 – MTV began broadcasting in the United States, playing The Buggles' "Video Killed the Radio Star," and changing how we view music forever.
http://www.buzzfeed.com/xavierstagecoach/mtv-is-30-what-are-the-first-5-videos-they-played-3upv
2013 – Motorola announced the Moto X Android phone with multiple customization options. It was the first phone designed entirely after Google bought Motorola.
http://www.theverge.com/2013/8/1/4578890/this-is-the-moto-x
2014 – Apple officially acquired Beats Electronics making Jimmy Iovine and Dr. Dre Apple employees.
http://recode.net/2014/08/01/apples-3-billion-beats-purchase-now-apparently-a-done-deal/
2016 – Japan's NHK began the first regular TV satellite broadcasts in 8K resolution from 10 AM to 5 PM. Viewing stations around Japan were set up to view the broadcasts as no 8K TVs were on the market.
http://www.theverge.com/2016/8/2/12349954/8k-broadcasts-start-japan-nhk
Read Tom's science fiction and other fiction books at Merritt's Books site.