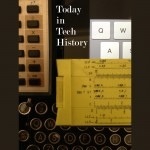 1888 – George Eastman was issued US. patent No. 388,850 for his roll-film box camera.
http://www.google.com/patents?id=rAlvAAAAEBAJ&printsec=abstract&zoom=4#v=onepage&q&f=false
1998 – Larry Page and Sergey Brin filed for incorporation of Google, allowing them to cash a $100,000 check Andy Bechtolsheim, co-founder of Sun, had written to Google Inc.
http://time.com/3250807/google-anniversary/
2013 – Samsung announced a smartwatch called Galaxy Gear that could only be used with its own phones and tablets that ran Android 4.3.
http://www.theverge.com/2013/9/4/4693692/samsung-galaxy-gear-smartwatch-announcement
Read Tom's science fiction and other fiction books at Merritt's Books site.